Achieving Excellence: BizUp Is #15 Among Boutique Consulting Firms in Atlanta
By
Wm. Dexter Jones
·
1 minute read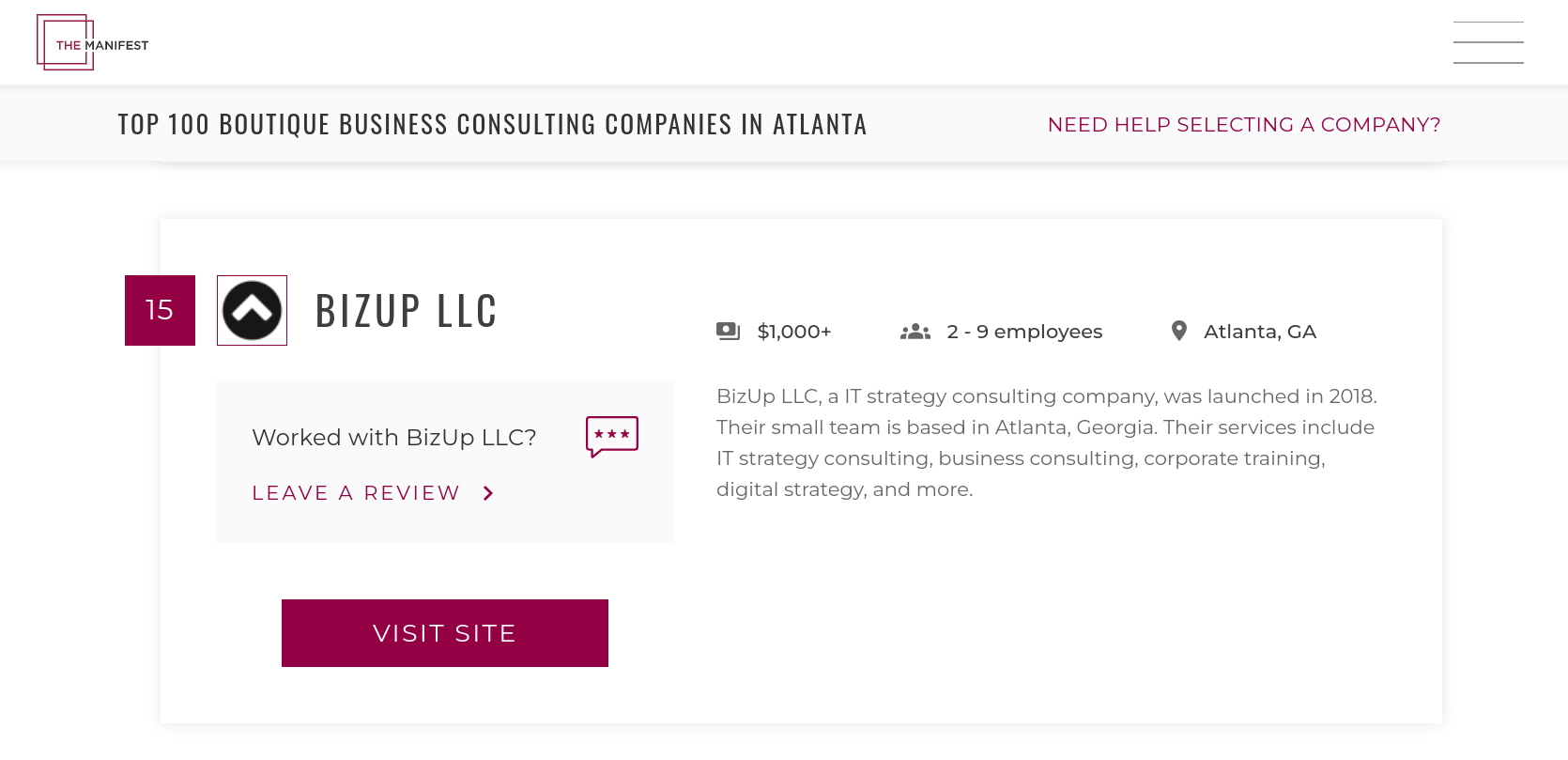 Well, we're moving on up...and ain't nothing wrong with that!
Celebrating Our Ranking as #15 Boutique Consulting Firm in Atlanta
We are thrilled to announce that our consulting company has secured an impressive position as the #15 boutique consulting firm in Atlanta. This recognition is a testament to our hard work, dedication, and commitment to delivering outstanding services to our clients.
As a boutique consulting firm, we pride ourselves on providing personalized and tailored solutions to our client's unique challenges. Our team of experienced consultants possesses a wealth of industry knowledge and expertise, enabling us to deliver high-quality results that drive business growth.
Securing the #15 spot in such a competitive market like Atlanta is no small feat. It is a reflection of our unwavering commitment to excellence and our continuous pursuit of innovation. Our success would not have been possible without the trust and support of our valued clients, who have been crucial in propelling us forward.
We attribute our strong ranking to our client-centric approach, where we prioritize understanding our client's needs and goals. By taking the time to delve deep into their business operations, we gain valuable insights that allow us to devise effective strategies and provide actionable recommendations for sustainable success.
Our success in ranking highly among boutique consulting firms in Atlanta also stems from our talented team of professionals. Our consultants are not only experts in their respective fields but are also passionate about what they do. Their commitment and dedication have been instrumental in achieving this significant milestone.
Moving forward, we remain dedicated to delivering exceptional consulting services to our clients, fueling their growth, and contributing to the continued success of Atlanta's business landscape. We will continue to leverage our expertise, stay abreast of industry trends, and explore innovative solutions to meet the evolving needs of our clients.
Click below to see more.